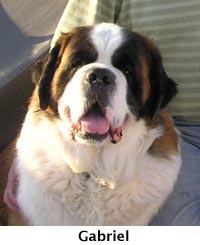 The Gabriel Institute was founded by Stan Stearns after his St. Bernard friend Gabriel gave him a dramatic introduction to canine osteosarcoma in January of 2007.
The purpose of this 501(c)(3) non-profit corporation is to initiate and support research in the hope of finding a cure for canine bone cancer.
Over 10,000 dogs succumb to osteosarcoma each year. It is our hope that the tools and knowledge we develop in trying to prolong the comfort and lives of our pets will ultimately benefit the 800+ children in the U.S. that are diagnosed with this vicious disease every year. Toward this end, many of Gabriel's friends are already participating in the activities of MD Anderson's children's osteosarcoma programs.
We have conducted clinical trials at Texas A&M University's Institute for Preclinical Studies (TIPS), the University of Missouri, and Oregon State, and we have reason to hope. New tools have been developed to localize the delivery of concentrations of chemotherapeutic, radiochemical, and radiation therapies. State-of-the-art PET/CT imaging technology is also critical to the process, and to that end, we have purchased a mobile PET scan machine.
Visit The Gabriel Institute's website to learn more.